INVERLUSSA TAKE DELIVERY OF NEW VESSEL FROM MACDUFF SHIPYARDS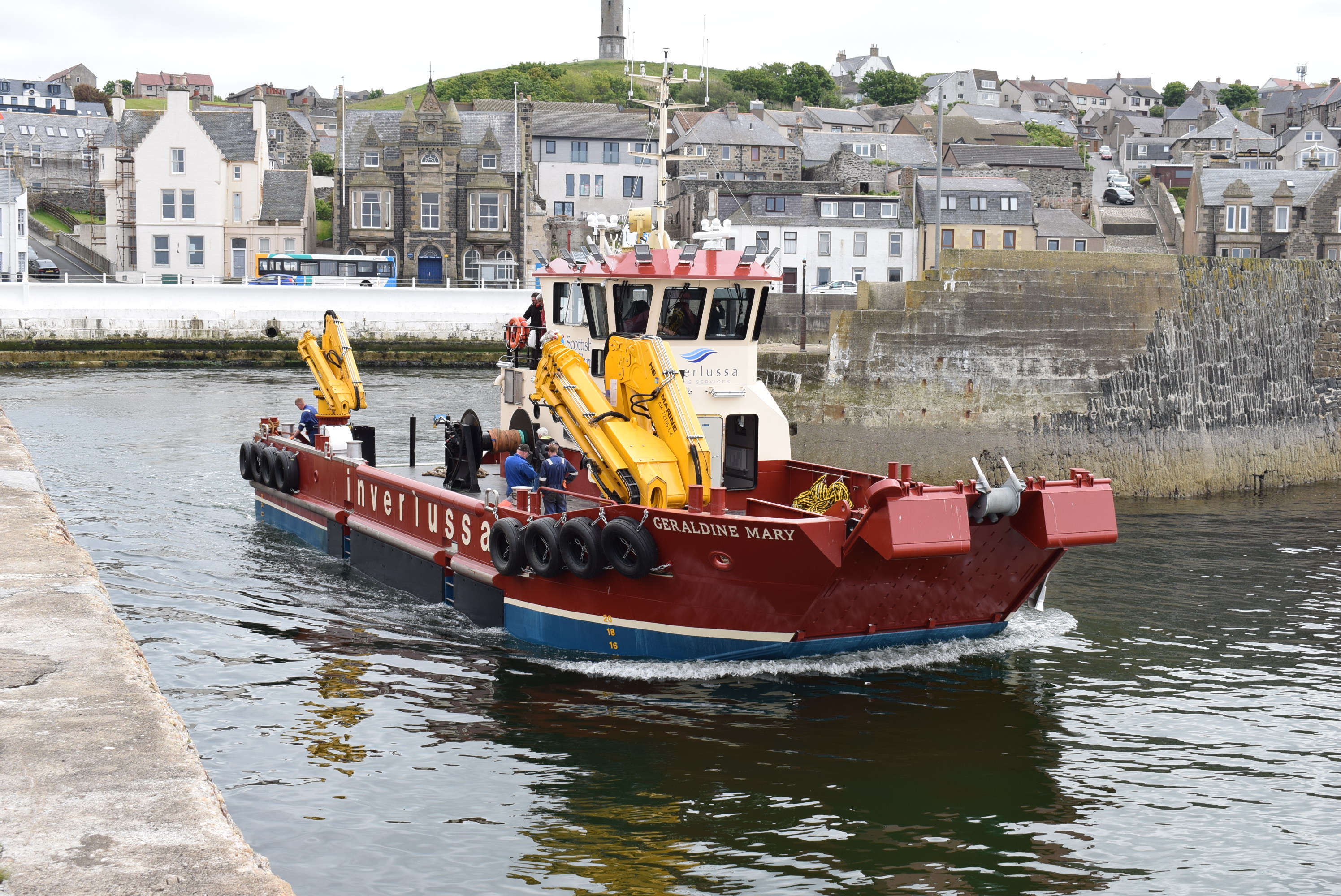 Inverlussa Marine Services has taken delivery of a new semi-hybrid powered workboat specially designed to service larger nets and pens.
Whilst the majority of the Inverlussa fleet has been designed by Scottish based Macduff Ship Design, the Geraldine Mary is the first vessel to be built by Macduff Shipyards since the launch of the Helen Mary in 2015 due to their busy order book. Inverlussa has a longstanding relationship with the yard who are also used for the majority of the fleets annual dry-docking.
Geraldine Mary is named after Director, Douglas Wilson's mother. The name has been reused following the sale of the original Geraldine Mary vessel to Cooke Aquaculture in early 2020.
The Geraldine Mary is on a two year charter to Scottish Sea Farms, to help service the companies next generation of larger pens and infrastructure. The vessel was built to Inverlussa's exact specification based on years of experience of vessel design and operation with particular detail placed on deck equipment, layout and protection to ensure for efficient working areas. It will have a full-time crew of two with accommodation for two more if needed. The addition of this vessel brings Inverlussa's headcount to 110 staff and crew members.
Equipped with a battery pack, the vessel will be able to use its harbour generators more efficiently, shutting them down overnight or between operations during the day, to save on fuel and CO2 emissions, as well as reducing noise.
At 21m long, the Geraldine Mary has capacity for a heavy duty 72-tonne metre crane to better handle the company's new 120m and 160m marine pens.
Scottish Sea Farms' Regional Production Manager for mainland, Innes Weir, said: 'The company's move to fewer, but bigger nets and pens was part of the ongoing drive to further enhance fish health and welfare.'
'Increasing the size of pens allows for greater separation between fish stocks and predators, while reducing the number of pens enables even more focused husbandry and fish health monitoring.'
'However, the new infrastructure also demands more of our farm teams – requiring different ways of working – and of our service vessels.'
The Inverlussa owned, Macduff-designed Helen Rice, that has operated under contract to Scottish Sea Farms for the past two years, is a sister ship to the new semi-hybrid Geraldine Mary, which marks another step in the drive towards greater sustainability, complementing Inverlussa's and Scotland's first fully hybrid workboat, the Laurence Knight, which is also on charter to Scottish Sea Farms.
Inverlussa Managing Director, Ben Wilson, said: 'The decision to introduce a semi-hybrid power system aboard the Geraldine Mary was a cost-effective, time-efficient amendment of an existing design compared with going fully hybrid with a complete redesign.'
'It's a vessel design we've had a lot of good experience with, and the semi-hybrid system is a big improvement on having generators running overnight.'
'With a much larger forward crane and bigger deck winch than the Helen Rice, plus an extra cabin in the accommodation, it's also a very versatile workboat.'
Macduff Shipyard Managing Director John Watt said: 'We were delighted to have been chosen for the Geraldine Mary – building innovative one-off vessels in short lead times is our speciality.'
'It's good to see a company like Inverlussa, who are at the forefront of their field, take the lead in sustainable innovation with ideas, practices and products that will contribute to the wider environment, as well as the economic viability of the company.'
Inverlussa strives to offer a full package that can be integrated into our clients operations. This is highlighted by Innes Weir, saying: 'It is not just the new boat, but the crew and the administrative support from Inverlussa that help the smooth operation of the farm estate.'
The Geraldine Mary marks the delivery of Inverlussa's 18th vessel that highlights the companies continued and sustainable growth, which is based on the hard work and determination of it crew and staff giving the highest level of service quality to their clients. This in turn builds on the long standing partnerships that have been built over many years, such as with Scottish Sea Farms.