SAFETY
Safety is a priority at all times, to provide a safe working environment for both employees and clients. We strictly adhere to all industry standards and regulations, with rigorous safety procedures and reporting systems controlled within our Safety Management System. All crew undertake extensive training to at least STCW standards before being employed on the vessels.
Safety also takes priority over cost. Any potential hazards are immediately identified and resolved as a matter of urgency. High quality PPE is provided to all crew members and Risk Assessments are reviewed at least annually and/or after any new hazards are identified.
WORKFORCE
People are definitely the greatest asset in this company and we never forget that fact. Their loyalty and expertise are essential to ensure that we deliver the quality of service that our clients require.
We have a very comprehensive on-going training programme which also encourages internal promotion by increasing the skills of our workforce.
Our Equal Opportunities Policy ensures that there are no barriers in gender, race or age within the company and all our crew are full time employees with a written contract. We are proud to be accredited as a Living Wage Employer and will continue to maintain this standard.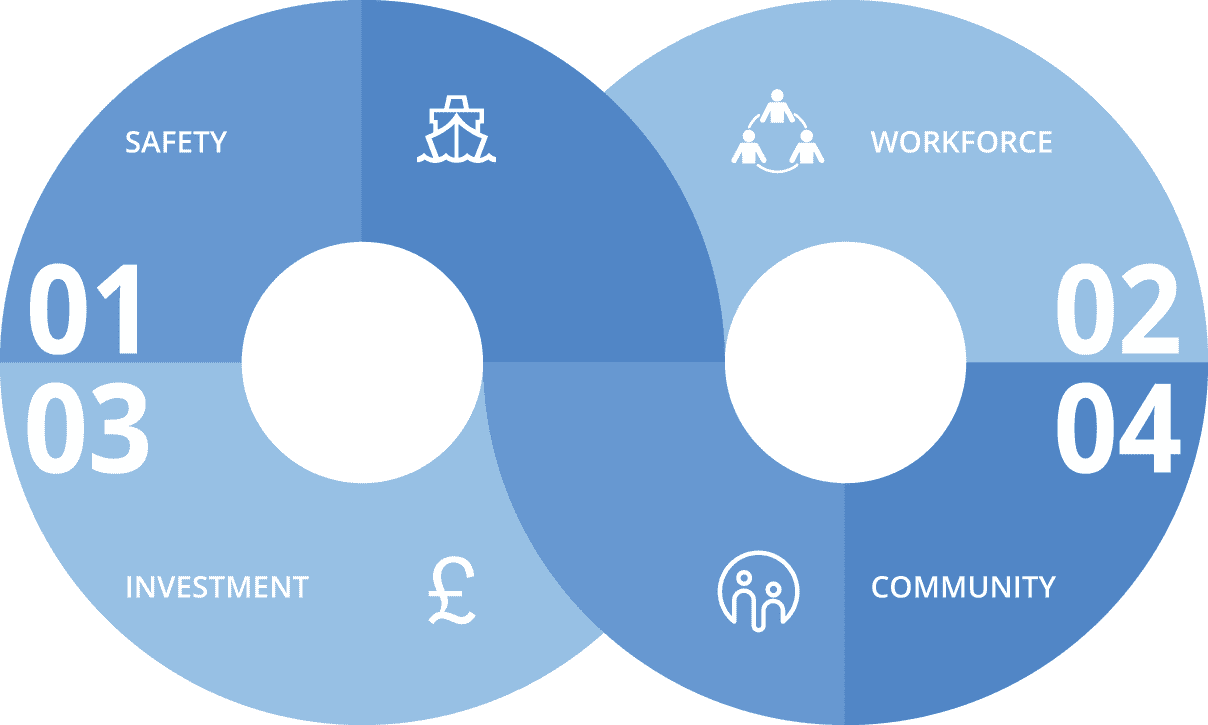 INVESTMENT
Our expansion into work vessels proved so successful that we approached Scottish boatyards with a view to design and build our first vessel to our specification for the Scottish aquaculture sector. Market requirements, added to our excellent reputation for customer satisfaction, led to further demand with continual growth and investment in our fleet of vessels.
Our larger vessels are designed to offer the flexibility of undertaking a wider variety of tasks, to enable the client to make best use of the vessel for a cost effective operation. Following the success of our offshore contracts, further vessels are now being planned for the renewables market.
COMMUNITY
The RNLI is a very important charity for us: 2 of our crew are currently lifeboat volunteers and we host an annual charity function with donations from suppliers all over the island, which raises substantial funds for the charity.
We also sponsor Mull Rugby Club, The Mull & Iona Association, Mull Highland Games and Coisir Og Mhuile (Mull Youth Gaelic Choir).
Being based in an island community, it is important that we support the local economy within the Highlands and Islands, for both recruitment and supplies. We also ensure that all our suppliers are paid promptly as we realise the importance of cashflow, especially to small companies.