INVERLUSSA MARINE SERVICES TAKE DELIVERY OF HYBRID VESSEL ELOISE ESLEA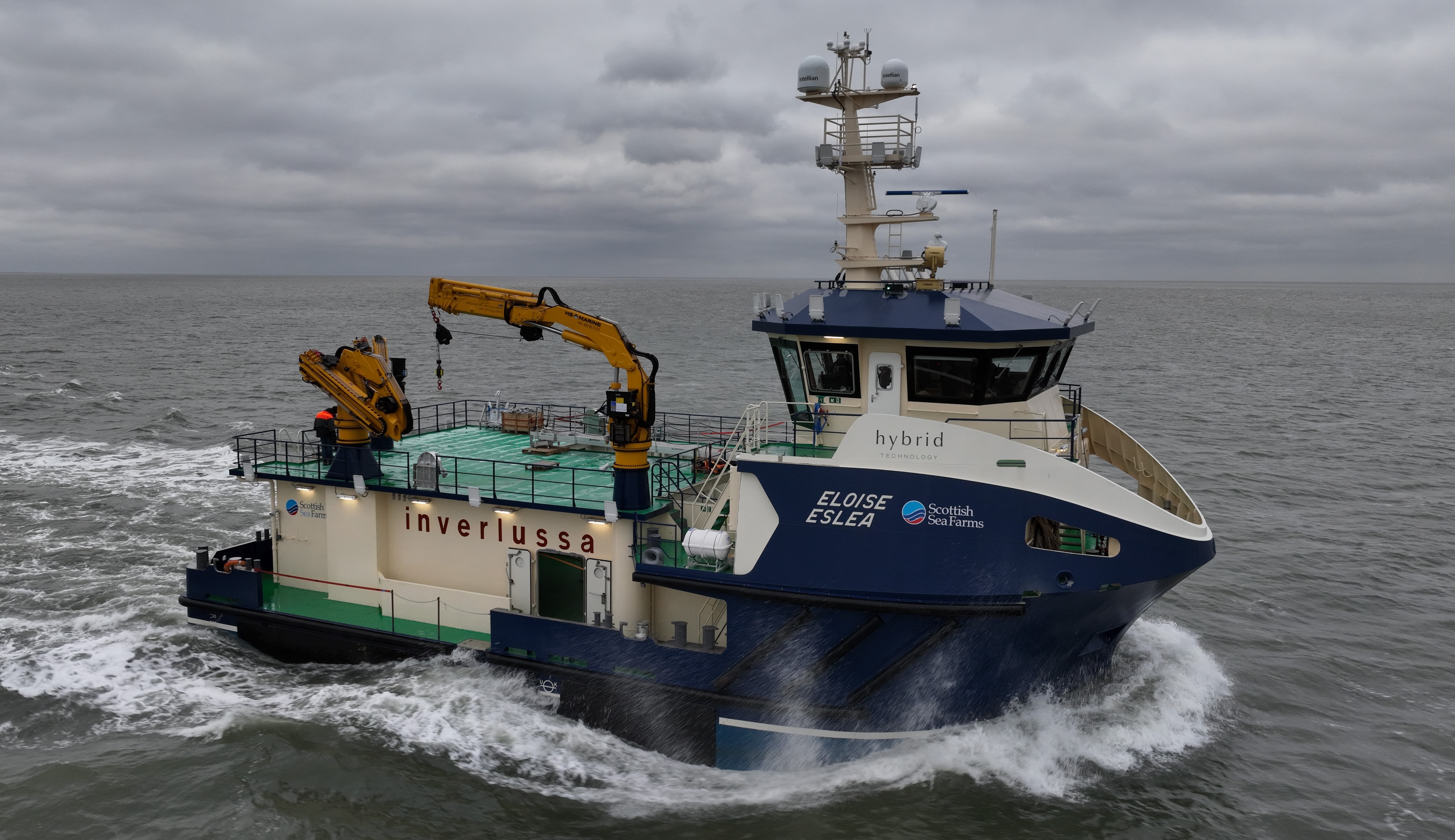 Mull-based Inverlussa Marine Services has today taken delivery of new service vessel, the Eloise Eslea – the latest addition to its growing fleet of modern, purpose-built workboats for the Scottish aquaculture sector.
Designed and built at Nauplius Workboats in the Netherlands, the Eloise Eslea is equipped with the latest technologies, including dynamic positioning to increase usability out on farm during severe weather and provide a safer working environment for crew.
The 27m workboat is also fitted with diesel electric propulsion and a battery hybrid system to lower fuel consumption and emissions during standby or overnight, further cementing Inverlussa Marine Services' reputation as a leader in greener technologies.
Commenting on the new arrival, Inverlussa Marine Services Managing Director Ben Wilson said: "The Eloise Eslea is another fantastic addition to our fleet, representing a huge investment both in terms of local job creation and in the future of the Scottish aquaculture sector."
On contract to Scottish Sea Farms, the vessel will now travel to Shetland where it will be fitted with a next generation Scale AQ thermo-delousing system, with engineering works by Ocean Kinetics, ahead of going into service in 2023.
Scottish Sea Farms Shetland Engineering Manager and project lead Keith Fraser said: "The Eloise Eslea adopts all the advances previously made when designing sister ship, the Kallista Helen, and builds on those with a number of adjustments and enhancements. The result will be an even gentler, swifter experience for the fish and a safer, more secure environment for the crew."
The Eloise Eslea takes Inverlussa Marine Services' fleet to 19-strong and has created a further six jobs within the company, bringing the total number of employees to 110 – the majority of those living in the same remote coastal communities as they work.
Welcoming the news, Salmon Scotland Chief Executive Tavish Scott said: "Inverlussa are leaders in the Scottish shipping sector and a shining example of the more than 3,600 supply chain businesses that make an essential contribution to the Scottish salmon sector.
"The family-owned firm's continued investment in new vessels with a lower carbon footprint will enable Scottish Sea Farms' Shetland farming operations to operate even more sustainably, whatever the weather, and generate jobs and prosperity in our island communities.
"We congratulate all at Inverlussa on the launch of the Eloise Elsea and wish the ship and the company every success over the coming years."