INVERLUSSA TO INTRODUCE THE FIRST FULLY HYBRID VESSEL INTO THE SCOTTISH AQUACULTURE INDUSTRY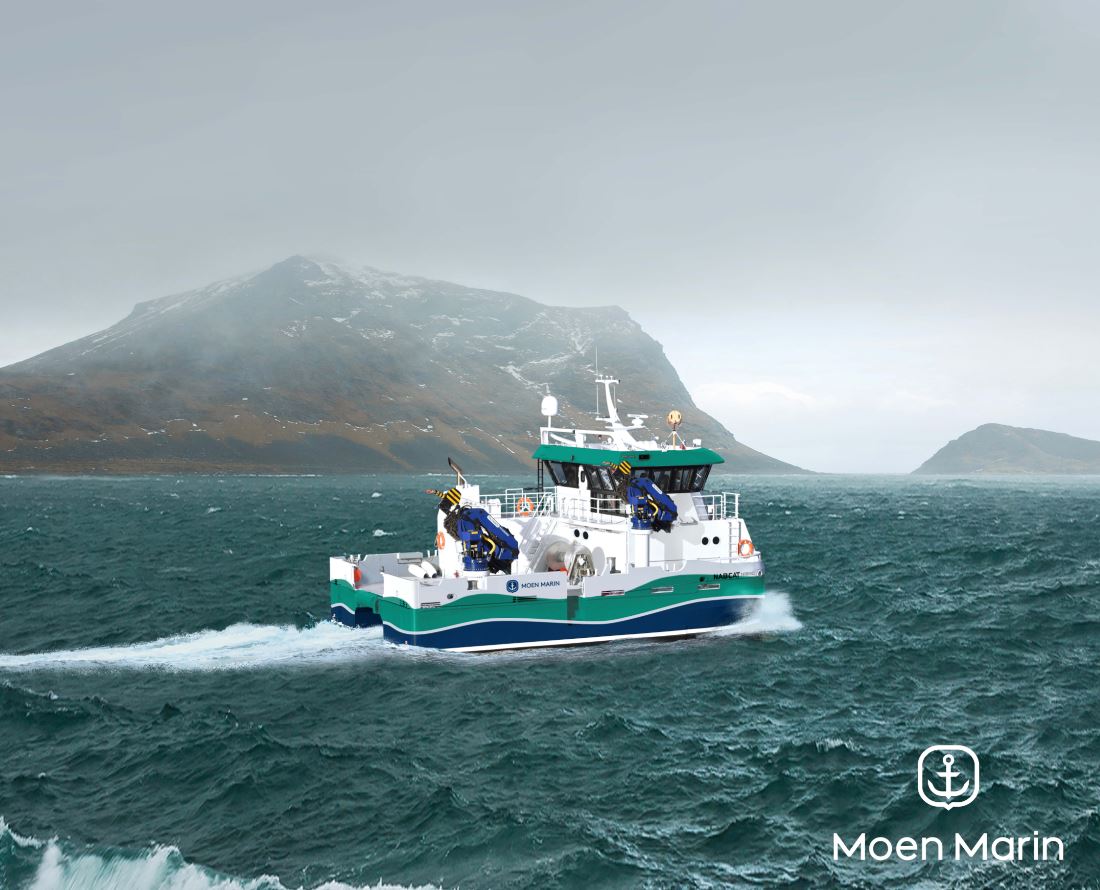 Inverlussa Marine Services have ordered a new-build hybrid vessel from Moen Marine, Norway and will take delivery in August this year. The 15 x 10m NABCAT work vessel will be the first of its kind to enter the Scottish Aquaculture Industry.
Moen's standard NABCAT vessels are renowned for their versatility and suitability for aquaculture sitework. This new hybrid vessel will be the most sustainable workboat in the Scottish aquaculture sector.
We aim to offer the vessel for the following tasks:
Mooring/grid inspection and installation.
Treatment support
Net changing and heavy lifting
General site support
The vessel is out fitted to the highest standard with the following equipment list:
2 x Cranes (Palfinger PK 65002 (M) G and Palfinger PK 33002 (M) G)
2 x capstans (8 ton and 5 ton)
1 x 15 ton towing/anchor handling winch
10 ton bollard pull
Fuel transfer
4 x cabins for 5 persons onboard
Comfortable high standard accommodation for crew
The vessel can either run on diesel-electric or battery-electric powered by a 244kWh battery pack, which can be charged by shore power or onboard generator. The vessel will be able to perform up to 6 hours of general sitework before the generator has to start. The vessel is powered solely by batteries overnight to reduce noise pollution, fuel usage and make the vessel more comfortable for the crew to rest. This battery hybrid propulsion system will reduce the vessels diesel consumption by approx 90,000 litres per year compared to a fully diesel version. This is a reduction of 234 ton equivalent of Co2 annually which is the same as removing 51 passenger vehicles from the road each year.
Ben Wilson, Managing Director at Inverlussa explains: "As a business Inverlussa always aims to stay ahead of the game, be at the forefront of technology and actively invest in innovative solutions to offer our customers. Inverlussa's commitment to retain a modern fleet and hiring the best crew in the industry is what fuels the continued growth of the company. We are excited to partner up with Moen Marine to bring the first hybrid site boat over to Scotland. We have been using hybrid company vehicles since 2017 and now have 3 cars with more planned in the coming months. The addition of the hybrid vessel shows the direction we are heading in and our aim to be the most sustainable and responsible workboat operator in the market."