INVERLUSSA SET TO BUILD LARGEST VESSEL TO DATE STRENGTHENING THEIR PARTNERSHIP WITH MOWI SCOTLAND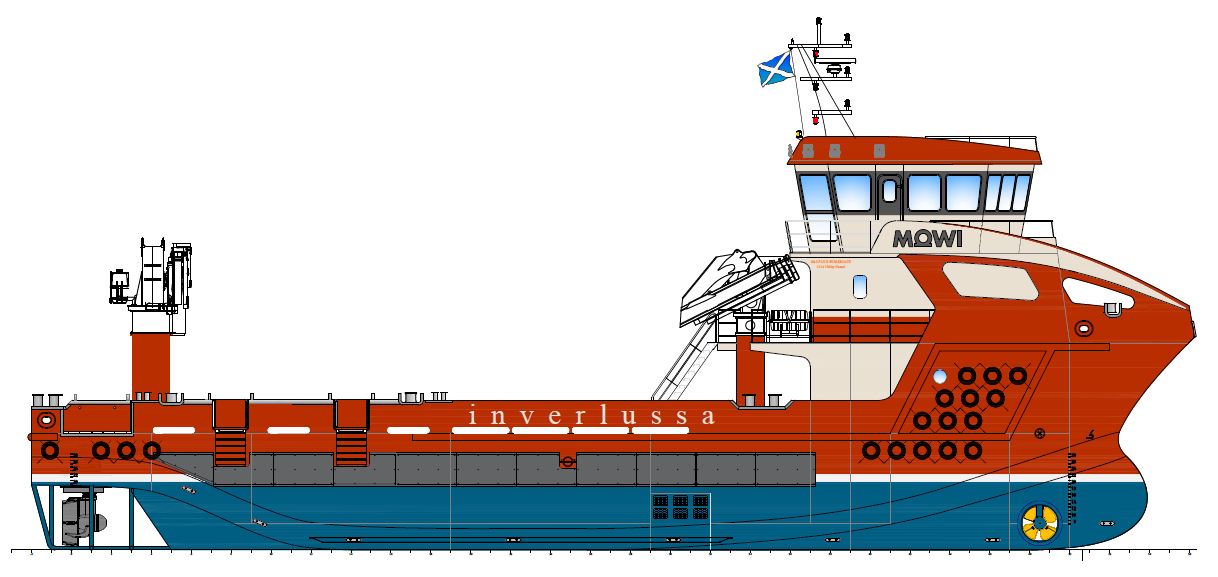 Inverlussa Marine Services have agreed a 5 year contract with Mowi Scotland to build and operate a 35m x 14.5m vessel that will house a twin line Thermolicer.
The partnership between Inverlussa Marine Services and Mowi Scotland has been developed over a number of years with Inverlussa supplying various site service and treatment vessels to meet the producer's needs. This newest vessel will increase Mowi's capabilities to effectively manage the levels of sea lice across their farms. The vessel will predominantly cover Scotland and Ireland with the option to deploy to Mowi's other farming regions as required.
Construction is due to begin later this summer at Nauplius Workboats in The Netherlands. She is due for completion in June 2021, on arrival this will increase Inverlussa's fleet to 15 vessels. This will be the first Inverlussa vessel over 24m <500gt and will be classed to Lloyds Special Service. This ship continues the company's strategy of investing in the most modern and advanced vessels.
The twin line Thermolicer will have a throughput of up to 250t/hr, where the salmon are passed through lukewarm water to quickly remove and collect the sea lice. This throughput is essential to reduce salmon crowding/handling time therefore improving fish welfare, and also enables the company to move towards larger diameter pens. As part of the treatment system the vessel will accommodate an oxygen generator and a heat recovery system for the water used in the Thermolicer process.
The treatment equipment, as well as the Azimuthal propulsion system will be powered fully by a diesel-electric power system to increase the vessel's efficiency and flexibility. To enhance manoeuvrability and operation of the vessel at the cages, the ship has been designed with Dynamic Positioning (DP0). Accommodation onboard will be finished to a high standard to ensure comfortable and quiet living conditions for the marine crew accompanied by 2 Mowi Technicians in 6 cabins.
Don MacLeod, Operations Manager at Mowi explains: "This is a very important project for Mowi as we advance our sea lice management systems on to a high capacity thermal system that will broaden our options as we move into larger pens that contain larger fish biomass in each."
Ben Wilson, Managing Director at Inverlussa Marine Services adds: "We have a long standing relationship with Mowi Scotland and we are delighted to build on our partnership with the construction and operation of this new ship. She will be the largest vessel in our fleet and will bring an additional service that our company can offer. We continue to invest in the best vessels and crew for our customers."